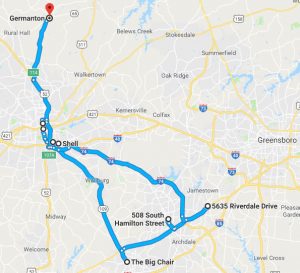 Who says Texas does everything bigger and better?  Here in Winston-Salem, NC and nearby towns, we have bigness, too.   Tremendous, bigly bigness…and it is great, really great.  I have planned a little sightseeing day tour that is a fun way to spend quality time with friends and loved ones.  While this might not be the most amazing tour ever created, I guarantee you'll have a blast taking selfies and being "amazed" at the awesome sights!   I have been to each and can attest to the awesomeness.  I wouldn't plan your family vacation around this list, but if you're in Winston-Salem for a Wake Forest game or business meeting or to see some other more conventional sights (like Old Salem), give it a try!
TOTAL DRIVING DISTANCE:  77 miles
TOTAL DRIVING TIME:  less than 2 hours
COST:  FREE   There are no admission charges along the way.
10 STOPS:  5 STOPS IN WINSTON-SALEM, 1 IN GERMANTON, 1 IN JAMESTOWN, 1 IN THOMASVILLE, 1 IN HIGH POINT, 1 IN MOCKSVILLE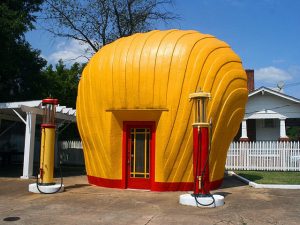 World's largest and last remaining Shell Clam shell gas station.  –  This place was built in the 1930's and narrowly escaped demolition.   I can just imagine Navin R. Johnson-looking attendants in crisp white suits checking the oil and cleaning windshields.   The world's largest clam shell station is located at 1111 E. Sprague Street in Winston-Salem.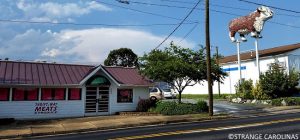 ThriftWay Meats Bull –  Okay, this is the least impressive sight on the list, but it's almost within walking distance of the shell.   It's at least worth a drive-by snapshot.   If you do decide to stop, where else can you take a selfie underneath a bull without getting arrested or gored to death?
The bull is located at 653 Waughtown St, Winston-Salem.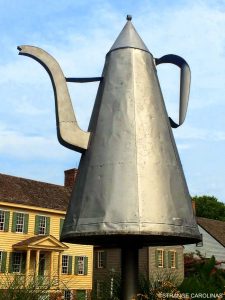 World's Largest Coffee Pot – I'm not sure if it really is the world's largest, but the Mickey Coffee Pot in Old Salem is pretty awesome.  Apparently there is a bigger one in Saskatchewan, Canada, but it's probably not worth the drive.   What makes this one so cool is that it was constructed in 1858 out of tin as an eye catcher outside a tin shop.   I bet it's the world's largest coffee pot made out of tin.   It is located at the intersection of Main St. and Old Salem Rd. in Winston-Salem.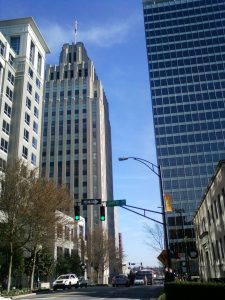 Reynolds Building, the largest skyscraper in the South until 1964 –  I don't know what building eclipsed the height of this one in 1964 and it's probably way down on the list now, but that's okay!  This 22 story building was built  in 1929 and was the precursor to the Empire State Building, which was built in 1931.  The Empire State building is an exact replica…with a few additional floors.   The Reynolds building  has been renovated recently and is now an upscale hotel with rooms going between $180 and $300 (ugh), but it's still a cool place to stand under and look up and it has a neat lobby.   It is located at 401 Main St on the corner of 4th St.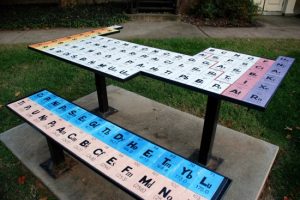 World's Largest Periodic Table Picnic Table –  Prove me wrong.  I bet it is the world's largest and maybe the nerdiest landmark you'll find anywhere.   Built by two art students, it is located on the campus of Wake Forest University near Davis field  at Salem Hall, Gulley Drive, Winston-Salem.
Now we're going to venture a little ways out of Winston-Salem….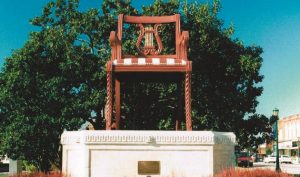 World's Largest Chair –  Located in beautiful Thomasville, NC, the furniture capital of the world,  this wonder is 38 feet tall.   While it isn't quite as impressive as you might think, it is a good reason to go to Thomasville…and there's really no other good reason to go to Thomasville.   It is located at 44 Main Street.  Trust me, you can't miss it.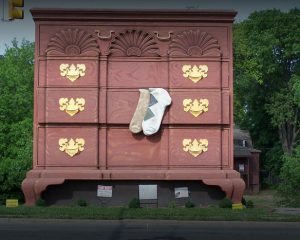 The World's Largest Victorian Chest of Drawers – Towering 32 feet, I had heard about this amazing structure when I was a kid.  When I started working in High Point years later, I made a point to stop by and I wasn't disappointed.   It may not be the tallest piece of furniture in the world, but it is still impressive.   I suppose those socks are close to the world's largest, too.   It is located at 508 Hamilton St in High Point, a block or two off Main St.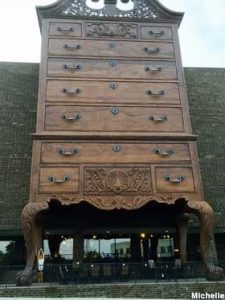 The World's Largest Highboy Chest of Drawers – How fitting that this sight is located at Furnitureland, the world's largest furniture store.   It rises 85 feet above the showroom.  Having two landmarks within a few miles of each other is like having the Eiffel Tower and the Tower of Pisa in the same vicinity.   You have to go before 5:30 because the gates of the business close then.  It is located at 5635 Riverdale Dr. in Jamestown.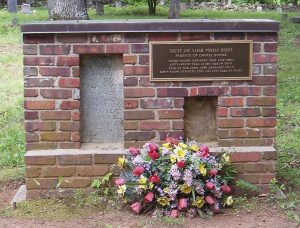 Daniel Boone's Parents and Brother's graves – Okay, this is not a "world's largest", but Daniel Boone is one of the largest icons in American History.   He killed a bear when he was only three!  Or was that Davey Crockett?   Fess Parker did us a great disservice by portraying both on TV.   Daniel's parents Squire and Sarah, as well as his brother Israel, are buried in Joppa Cemetery.    It's kind of disappointing that the cemetery is located next to a strip mall which is visible from the grave sites.  But it's still pretty cool.  Not nearly as disappointing as the Alamo, though, another Daniel Boone landmark (or was it Davey?)    Joppa Cemetery is located at 1348 Yadkinville Rd in Mocksville, about 20 miles west of Winston-Salem.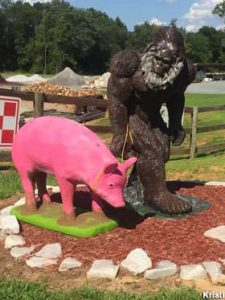 Bigfoot Walking a Pig –  What????  NO WAY!!!  Yes, it's true.  Just 12 miles north of Winston-Salem is the world's only statue of Bigfoot walking a pig.   How much better can it get?  This may be the only entry on the list worth planning a family vacation around.   I have been past Creekside Supply Co. several times, but I never noticed it, so this is the only entry that I have never seen.  But, it's got to be awesome, right?   You can bet I'll make it a point to stop and take a picture.   It is located on Hwy 8 / NC 65 in Germanton, NC.
While this blog entry is a bit facetious, all or parts of this tour would make a great way to spend a day or half day with people you love.  And that's what life is all bout, isn't it?